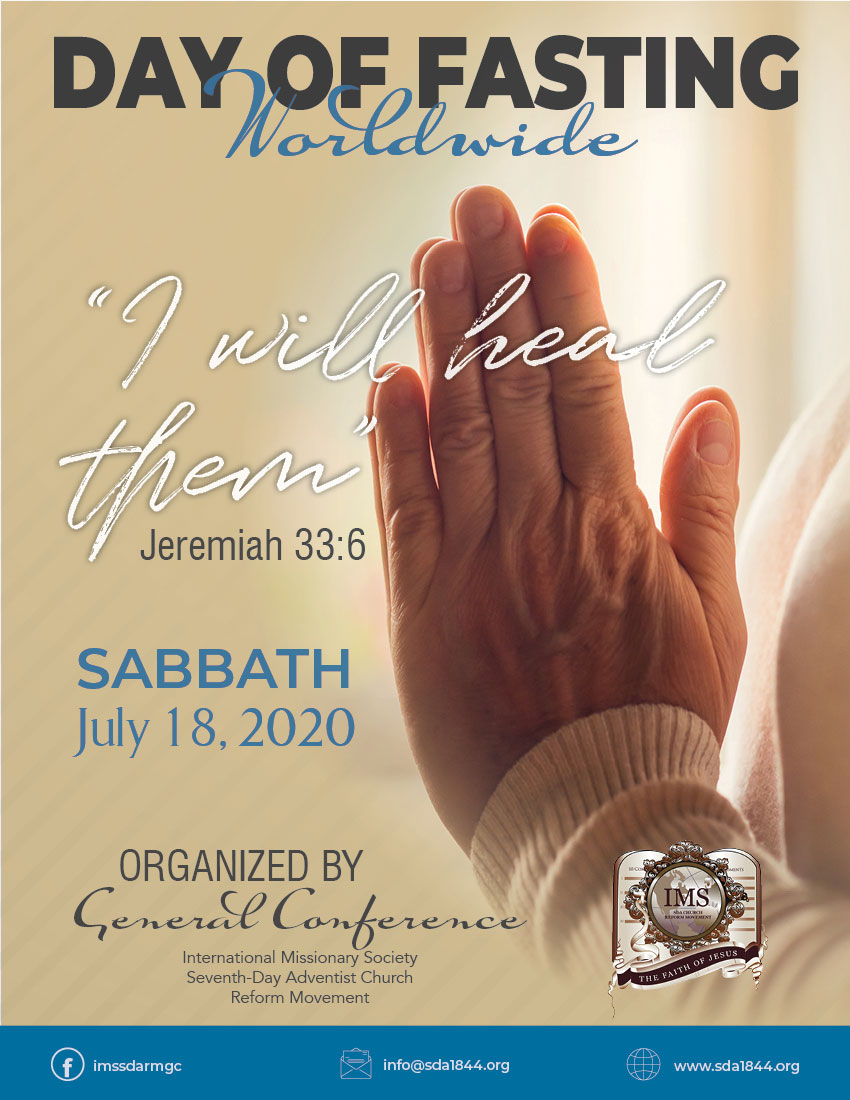 Division Presidents
Presidents of Unions and Fields
Re: Worldwide day of fasting on July 18, 2020
Dear Presidents of the Divisions, Unions, and Fields worldwide,
May the peace of the Lord be with you. Greetings with the Word of God in:
"Howbeit this kind goeth not out but by prayer and fasting." Matthew 17:21.
"Blow the trumpet in Zion, sanctify a fast, call a solemn assembly …" Joel 2:15.
The purpose of this letter is to call all brothers and sisters of all countries to join in a fast scheduled for Sabbath, July 18, 2020. On this day, we wish to thank God for His protection, lift up our praises and offerings of gratitude for the recovery of the brethren infected with the Coronavirus, and plead with the Lord to have mercy upon His people who are waiting on Him for their healing.
Let us plead earnestly for the promise of Jeremiah 33:6 to be fulfilled: "Behold, I will bring it health and cure, and I will cure them, and will reveal unto them the abundance of peace and truth."
We ask the entire people of God to consider the following appeal: "In view of that great day the word of God, in the most solemn and impressive language, calls upon His people to arouse from their spiritual lethargy and to seek His face with repentance and humiliation: 'Blow ye the trumpet in Zion, and sound an alarm in My holy mountain: let all the inhabitants of the land tremble: for the day of the Lord cometh, for it is nigh at hand.' 'Sanctify a fast, call a solemn assembly: gather the people, sanctify the congregation, assemble the elders, gather the children: … Let the priests, the ministers of the Lord, weep between the porch and the altar.' 'Turn ye even to Me with all your heart, and with fasting, and with weeping, and with mourning: and rend your heart, and not your garments, and turn unto the Lord your God: for He is gracious and merciful, slow to anger, and of great kindness.' Joel 2:1, 15-17, 12, 13." –The Great Controversy, p. 311.
Looking forward to uniting in prayer and fasting, we wish you the protection and blessing of the Lord.
Sincerely,
Your brother in Christ,
Pastor Tzvetan Petkov
President of the General Conference