A group of Ukrainian Christian refugees consisting of 29 children and 14 adults arrived successfully in Mosbach, Germany, Sister Manuela Di Franca, assistant at the Education Department at IMS, confirmed on March 2, 2022, on Facebook. The event is part of the initiative of German Union at IMS to help Ukrainian Christian refugees to escape from the war's danger in their native country. Later on, today, on March 5, 2022, Sister Manuela Di Franca announced that more groups of women and children from Ukraine arrived at the mission house of German Union at IMS in Mosbach, Germany.
In addition, on February 27, 2022, Sister Manuela Di Franca revealed on Facebook that children from a church at IMS in the city of Trujillo, Peru, made a prayer chain for our brethren in Ukraine. Furthermore, yesterday Sister Manuela Di Franca announced on Facebook that kids from South Africa are united in prayer for affected families and children in Ukraine.
The successful arrival of the Ukrainian Christian refugees in Germany in answer of the Christian prayers for Ukraine and Ukraine's people is a fulfillment of God's word in Isaiah 58:7-9, first part: "Isn't it to distribute your bread to the hungry, and that you bring the poor who are cast out to your house? When you see the naked, that you cover him; and that you not hide yourself from your own flesh? Then your light will break out as the morning, and your healing will appear quickly; then your righteousness shall go before you, and Yahweh's glory will be your rear guard. Then you will call, and Yahweh will answer. You will cry for help, and he will say, 'Here I am.'"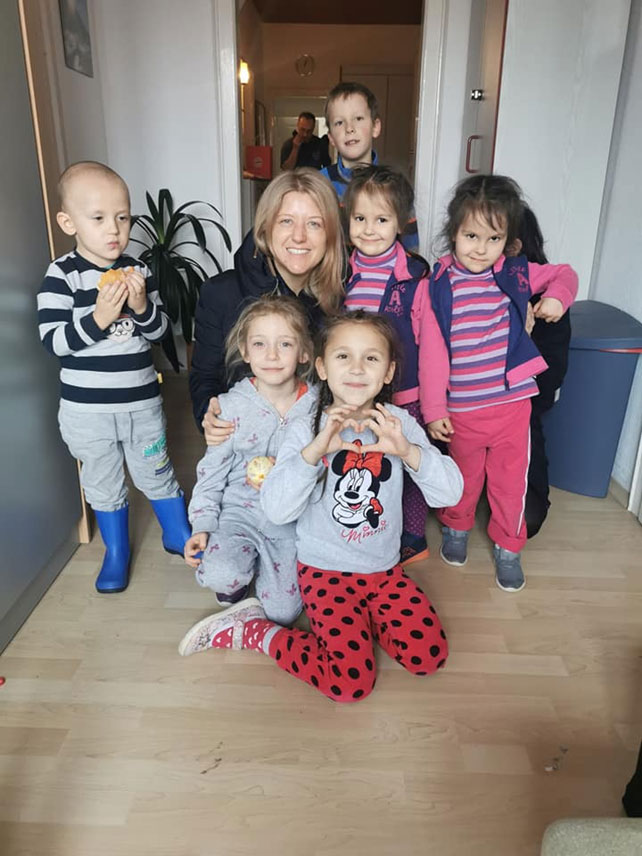 Sister Manuela Di Franca among children from Ukraine who arrived in Mosbach, Germany, escaping from war's danger; a photo from the personal archive of Sister Manuela Di Franca on Facebook.
Written by Margarit Zhekov