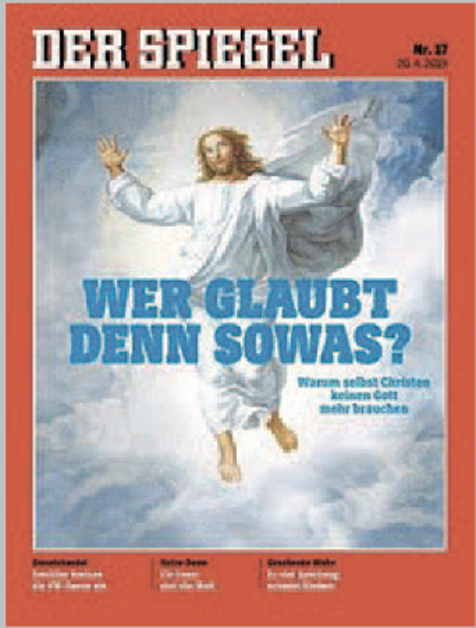 On September 16, 2019, Spiegel Online published a story about Jehovah's Witnesses in the Sachsenhausen concentration camp in Germany. Eighty years ago, August Dickmann was one of the inmates in the camp who were executed as conscientious objectors. Our brother in the faith, Friedrich Bradtka, was there and witnessed the exe- cution.1 The report appeared in Der Spiegel (The Mirror) in Hamburg, which has a paid weekly circulation of approximately 700,0002 and is not known for a Christian orientation. It is considered a secular magazine, and every year at Christmastime, for example, the birth of Christ is questioned and Christianity is presented as being unreliable.
The section in which the above story appeared, called "A Certain Day," publishes and archives historical topics and eyewitness accounts. The title of the article was "Conscientious Objectors in the Third Reich: Jehovah's Witnesses Despair of the Nazis."3
Christian Friedrich Bradtka (1886-1959) was a widower who lived in Kannwiesen, East Prussia, with his six children. On April 25, 1939, he was arrested following allegations made against him by Seventh-day Adventists who were his former brethren in the faith and was transported to the Sachsenhausen concentration camp on May 26 of the same year. He was tattooed with prisoner number 000441 and was registered in block 65.4
The document of record regarding his detention5 under the most difficult conditions tells about the execution of August Dickmann.
Friedrich Bradtka saw firsthand what happened and gave the following description: "On the night of September 15, 1939, the work was completed an hour earlier.
The columns of prisoners, coming from their work areas, were all lined up in the main square–8,500 prisoners in all. Suddenly we heard the voice of the camp commander, Baranowski, coming through the speakers that were attached to the lampposts. He said, among other things: 'There are Bible adherents in the field who refuse military service and say that Jehovah is their King and to Him alone they have sworn allegiance. Such elements must be made harmless, according to the law of war. And as long as I am in the field, the Lord has nothing to say.' A command was given, and we heard shots; August Dickmann fell, shot through.6  At a signal from Baranowski, his assistant, Rudolf Hess, who would later become commander at Auschwitz, shot the man lying on the ground in the head. A man in the front row, one of August's brothers, Heinrich Dickmann, was ordered to put the body in a coffin and take it away.7
"After Dickmann's body had been carried away, Baranowski, the camp commander, according to witnesses, shouted that those in the parade ground would suffer the same fate if they did not sign the pledge, including Jehovah's Witnesses. Whoever did not want to be shot was commanded to step forward. After a long pause, two men stepped forward to say that considering what they had just witnessed, they withdrew their signatures. Baranowski left the place in a rage."8
Toward the end of this article in Der Spiegel, "A Certain Day" mentioned the Reform Movement: "In addition to Jehovah's Witnesses, a much smaller community of the Seventh-day Adventist Church, Reform Movement, appealed to its members not to participate in the war."9
The article contained a gallery of 16 photographs. In addition to the three Conscientious Objectors–August Dickmann (Jehovah's Witness), Franz Jagerstatter (Austrian Catholic), and Herrmann Stöhr (Evangelical Theologian)– four members of the Reform Movement were pictured, with a brief description below their images: Anton Brugger, Alfred Münch, Günter Pietz, and Viktor Pacha.
Our brother in the faith, Friedrich Bradtka, survived 1,068 brutal days in the Sachsenhausen concentration camp. He was "punished" by being impaled, in addition to other tortures. Then he was picked up by the SS. Near death in a ditch where the execution was to be carried out, with his head against the wall and seemingly at his last hour, Friedrich Bradtka courageously told the SS men, 'If you shoot me, I want to look you in the eye.' But even the hardened SS were unable to do so and sent our faithful brother back to his quarters."10
Friedrich Bradtka was allowed to return to Kannwiesen in East Prussia in 1942. After the war, he was expelled from East Prussia on May 13, 1946. He found a place to stay in Schleswig-Holstein, in the western area. He later moved close to his daughters Marta Bohlmann and Emma Lange on Lake Constance. He died on July 18, 1959, at the age of 73, and was buried by Elder Otto Welker in Stockach-Zi- zenhausen.
As a result of the publication of the above article about conscientious objectors, the entry in Wikipedia, "International Missionary Society of the Seventh-day Adventist Church, Reform Movement" received three times as many views as normal over the course of several days. It has been rewarding and encouraging to see a secular magazine correctly present information about the Reform Movement, as well as an important part of our history, which showed that our people believed the Bible and upheld it as binding, even in times of war. Through the faithfulness of the witnesses of our small community, many more people now know about us. This fills us with gratitude.
"He hath made every thing beautiful in His time:…" Ecclesiastes 3:11.
We can be sure that God's ways are deep and will prevail.
By Helmut Welker
Spiegel Nr. 17 /20.4.19
Spiegel Online–Photo Gallery https://www.spiegel.de/fotostrecke/kriegsdienstverweigerer-im-nationalsozialismus-fotostrecke-170654-16.html
Landesarchiv Schleswig-Holstein, Abt. 761, Nr. 16590.
https://de.statista.com/statistik/daten/studie/164386/umfrage/verkaufte-auflagen-von-spiegel-stern-und-focus/ – Download am 13.10.2019.
https://www.spiegel.de/geschichte/kriegsdienstverweigerer-hinrichtung-von-august-dickmann-zeuge-jehovas-a-1286598.html.
Stiftung Brandenburgische Gedenkstätten, Häftlingsauskunft Sachsenhausen vom 10.02.2016.
Landesarchiv Schleswig-Holstein, Abt. 761, Nr. 16590.
ebd. Foto: E. Mattick
Spiegel, einestages, : "Kriegsdienstverweigerer im "Dritten Reich": An den Zeugen Jehovas verzweifelten die Nazis" – Download 3.10.2019.
ebd.
Spiegel, einestages, : "Kriegsdienstverweigerer im "Dritten Reich": An den Zeugen Jehovas verzweifelten die Nazis" – Download 13.10.2019.
Landesarchiv Schleswig-Holstein, Abt. 761, Nr. 16590.
Source: Sabbath Watchman
https://imsgc.s3-us-west-2.amazonaws.com/sw/SW-2011-2019/eSW2019.10-12.pdf